Diabetes Prevention Program
WHAT IS IT?

The Diabetes Prevention Program is a community-based, lifestyle change program that offers diabetes prevention education and support for people with prediabetes and those at high risk for prediabetes. Prediabetes involves blood sugar levels that are higher than normal, but not yet high enough to be diabetes.
An individual with prediabetes can delay or prevent type 2 (T2) diabetes by making simple lifestyle changes. Diet and moderate exercise, resulting in a modest weight loss, often work to delay or prevent progression to a diagnosis of type 2 diabetes.
You will learn how to create a healthier lifestyle and prevent diabetes in this 12-month diabetes prevention program. Your group will meet with a trained Diabetes Prevention Program facilitator.
DIABETES PREVENTION PROGRAM MEET & GREET
Meet & Greet dates (Held at the Superior Public Library)
Tuesday September 19th @ 5:30pm
Wednesday September 20th @ 12pm
Thursday September 21st @ 5:30pm
Meet and greets are FREE and open to the community. Community members will get an overview of the program, complete the survey to qualify for the Diabetes Prevention Program, and discuss meeting dates and times for the program.
DIABETES PREVENTION PROGRAM
Classes for the Diabetes Prevention Program
Mondays 10:15am
Tuesday 5:30pm
Wednesday 12pm
Thursday 5:30pm
Classes will begin the week of October 2nd meeting at the Superior Public Library and will run weekly for an entire year. Class participants will choose the day and time that works best for them and attend during that day and time for the year. Diabetes Prevention Program is FREE, but YMCA membership is no longer included must sign up seperately.
ARE YOU AT RISK FOR DIABETES?
Complete the CDC prediabetes risk test below. Add up the number of points associated with each answer to learn your risk for prediabetes.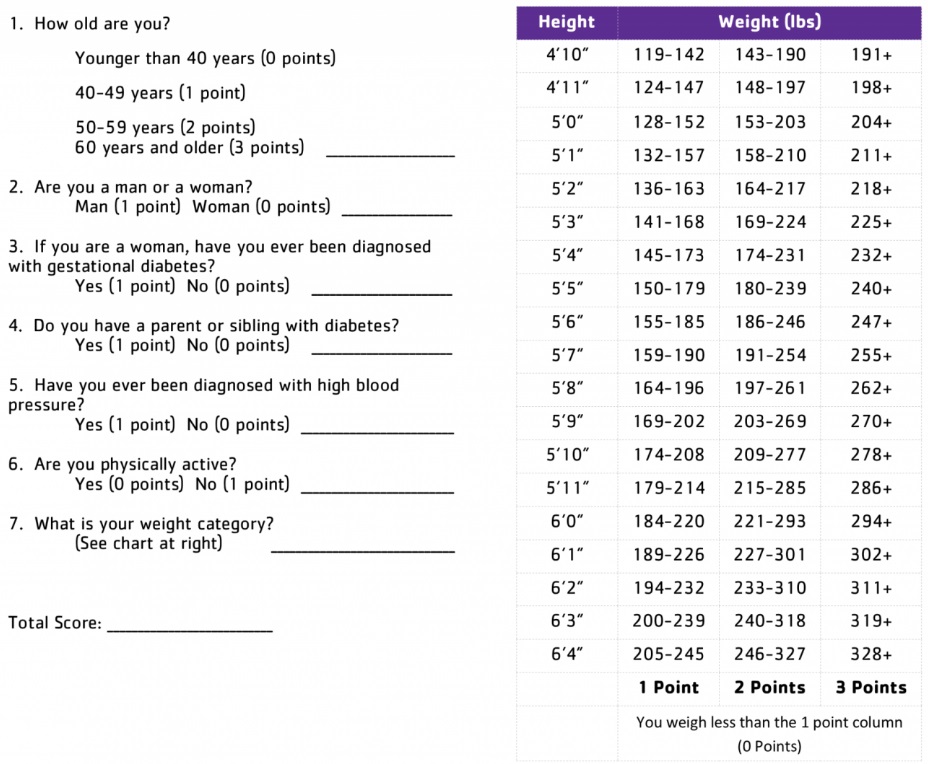 IF YOU SCORED 5 OR HIGHER YOU MAY BE ELIGIBLE:
You have an increased risk for prediabetes and are at high risk for type 2 diabetes. However, only your doctor can tell for sure if you have type 2 diabetes or prediabetes. Talk to your doctor to see if additional testing is needed.
QUESTIONS?
Contact Health & Wellness Director Jen Rosnau, jrosnau@superiorymca.org, 715-392-5611 Ext 115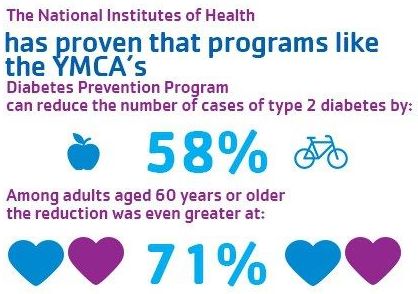 DIABETES FACTS
The Centers for Disease Control and Prevention (CDC) have been involved in extensive research on prediabetes and diabetes in the United States. Their findings suggest that this disease continues to be a growing issue for people of all ages and backgrounds:
Diabetes affects 25.8 million people in the United States.
Recent studies estimate that 79 million Americans over the ages of 20 have prediabetes.
Diabetes is the seventh leading cause of death in the United States.
In 2010, roughly 1.9 million new cases of diabetes in people over the age of 20 were diagnosed.
People with diabetes are about 50% more likely to die than people of the same age without diabetes.
Medical expenses for people with diabetes are 2.3 times greater than those without.
People with diabetes are between 2-4 times more likely to have a stroke and die from heart disease.
Diabetes is the leading cause of new cases of blindness in people aged 20-74.
People with diabetes are at greater risk for nerve damage, dental disease, lower limb amputation, depression and complications during pregnancy.
Please contact Health and Wellness Director, Jen by phone or email with any questions. jrosnau@superiorymca.org, 715-392-5611 EXT 115